NAPA® Echlin® offers more than 800 coils for 99% aftermarket-leading coverage
Every NAPA® Echlin® coil is subjected to extensive testing & product validation
NAPA® Echlin® heavier-duty coils beat the OE with more spark energy & longer lasting discharge for improved performance
Because we're an expert coil manufacturer, you know
what to expect every time you open our box.
Not every supplier can say the same.
Ignition coils are manufactured at NAPA® Echlin® Poland, an IATF 16949-certified design, engineering, and manufacturing center. We produce over 6 million coils and release 110+ new products each year.
Superior Coil Engineering

Many suppliers are just product importers. That's not who we are. It's not enough to lead the market with 99% coverage, as an expert manufacturer, here's our process. We study the OE platform coils to identify weak points in original coil designs that lead to failure, then we engineer improvements to produce a more reliable coil.
Ignition Coil Testing
Our ignition coils undergo a full regimen of measurement and life tests, plus environmental analysis that includes thermal shocks, thermal cycling and vibration tests. You can install NAPA® Echlin® ignition coils with confidence, knowing they meet and often exceed the performance and durability of the original.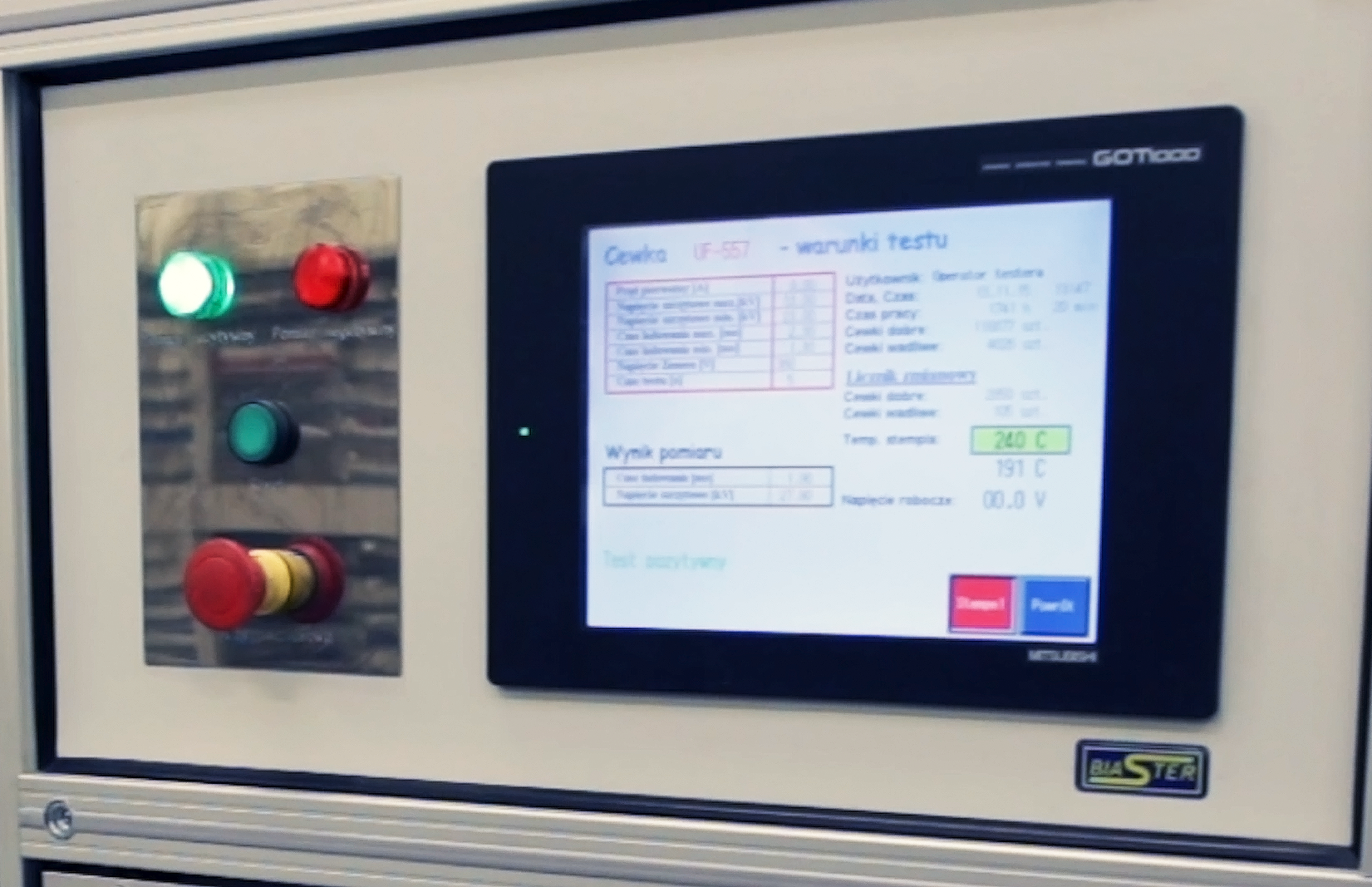 NAPA® Echlin® Outperforms the OE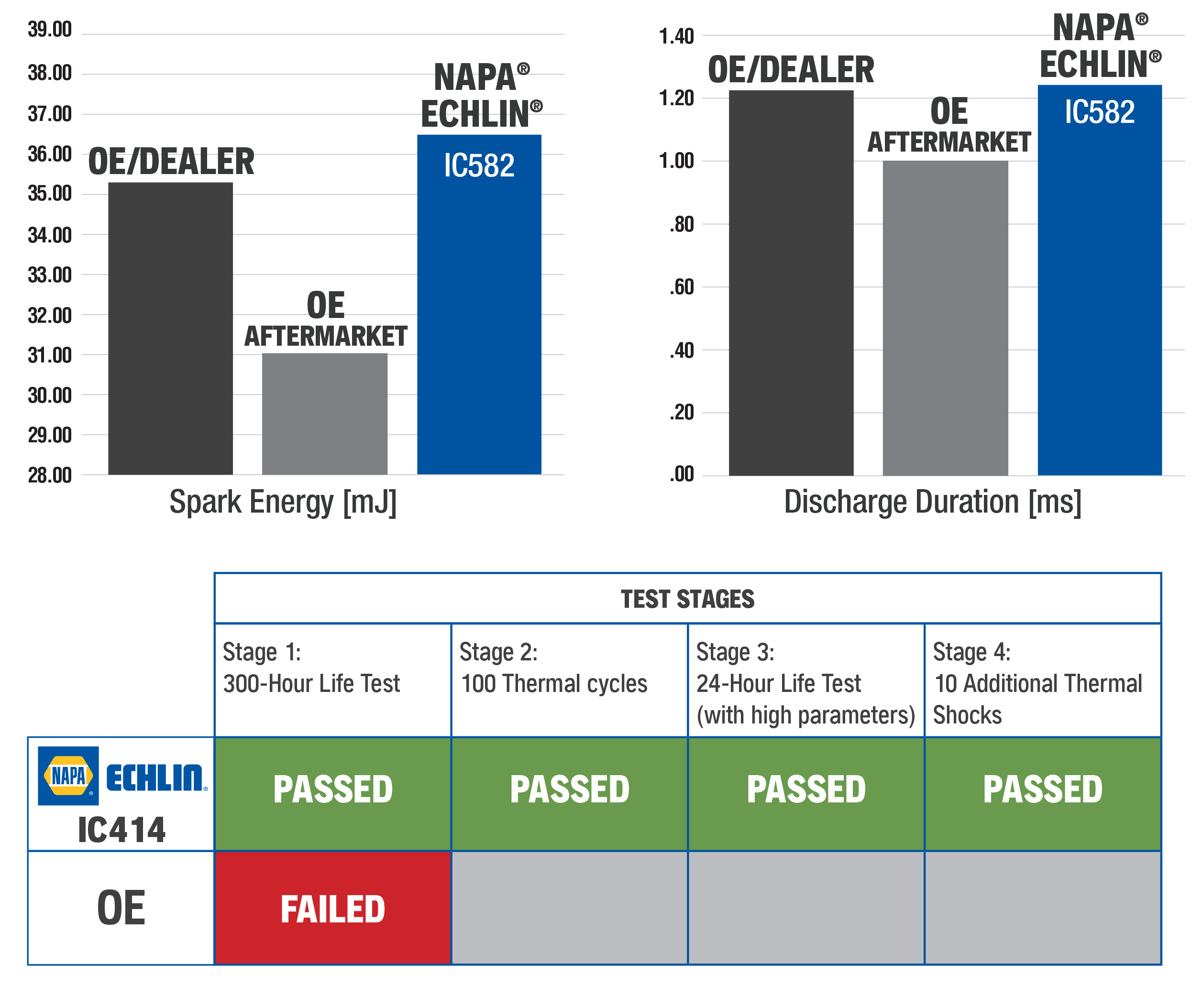 Testing Takeaways
Test 1: NAPA® Echlin® coils outperform the OE and OE aftermarket coils with more spark energy and longer lasting discharge to deliver improved performance and fuel economy.
Test 2: The OE coils short-circuited and never completed Stage 1.
NAPA® Echlin® coils passed 100 thermal cycles, a 24-hour life test, and 10 thermal shocks, producing more energy and higher secondary voltage for exceptional performance and durability.
We Pay Attention to the Details
Engineered and tested to match or exceed OE for spark energy output, impedance, and durability

Boot & Spring Assembly

High-temp book prevents high-voltage leaks while stainless steel spring with internal ferrite noise suppressor prevents RFI

Core

Internal neodymium permanent magnet maximizes high-voltage output at all speeds

Coil Housing

High-impact material bonds to epoxy to ensure a longer service life

Coil Connector

Advanced thermoplastics ensure proper connection and resist heat fractures

Isolator

High-voltage resistant thermoplastics prevent premature failure

Primary & Secondary Bobbins with Winding

Copper wound wire ensures high-voltage for peak performance while high dielectric strength bobbins prevent voltage flashover
Heavier Duty Ignition Coils
NAPA® Echlin® heavier-duty ignition coils are the product of superior design, manufacturing, and testing. For example, look at the features of our premium IC414 coil, and how it improves on the original.
Advanced thermoplastic coil connector ensures proper connection and resists fractures caused by heat and thermal cycling

Primary (23 gauge) and Secondary (43 gauge) copper wire ensure high-voltage availability for peak performance while reinforced bobbins prevent voltage flashover for extended service life

High-impact housing material ensures superior bond to epoxy for longer life in all operating conditions

Internal, neodymium permanent magnet core surrounded by grain-oriented, magnetic-laminated steel maximizes high-voltage output at all engine RPMs and loads

Tested at extreme engine performance condition at 7200 RPM

Engineered and tested to match or exceed OE for spark energy output, impedance, and durability

High-temp boot prevents high-voltage leaks, while stainless-steel spring with internal ferrite noise suppressor prevents radio frequency interference (RFI)

Isolator manufactured using high voltage-resistant thermoplastics to prevent premature coil failure

Copper wires using higher insulation grade ensure heat resistance and prevent high voltage breakdown

Optimum wire distribution developed by extensive testing ensures superior functional parameters and durability
OE: 8 primary winding sections.

NAPA® Echlin®: With 10 primary winding sections, our design reduces the height of each section's winding to decrease the risk of breakage between sections.

OE: Uneven number of winding turns.

NAPA® Echlin®: Our barrel winding distribution precisely reduces the number of turns in the first and last two sections to reduce the voltage gradient. When combined with our higher G2 insulation grade, our winding distribution lowers the risk of breakage within the winding.

OE: Potted using "yellow" epoxy system.

NAPA® Echlin®: When compared to common "amber/yellow" epoxy systems, our "black" epoxy system features nearly 40% higher insulation resistance to voltage breakdown.
Advanced Pencil Coil Technology
As engine technology evolves, coil-on-plug technology will continue to play an increasingly important role. NAPA® Echlin® premium pencil coils are leading the way with exceptional coverage for this growing category. Let's take a closer look at our IC242 pencil coil:
Silicone rubber boot withstands extreme heat and provides superior insulation

Stainless steel spring resists corrosion

Primary and secondary bobbins made from fiberglass-reinforced polyethylene terephthalate prevent voltage flashover for extended service life

Internal core made from grainoriented electrical steel limits loss factor within magnetic circuit to reduce heat that may affect coil endurance

External core made from oriented silicon steel for durability

Neodymium magnet produces max high voltage output at all speeds

Electronic ignition module profile and feedback signal matches fit, form, and function of original

Tin-plated brass terminals improve electrical contact and protect against corrosion
Tech Tip: Replace Ignition Coils in Sets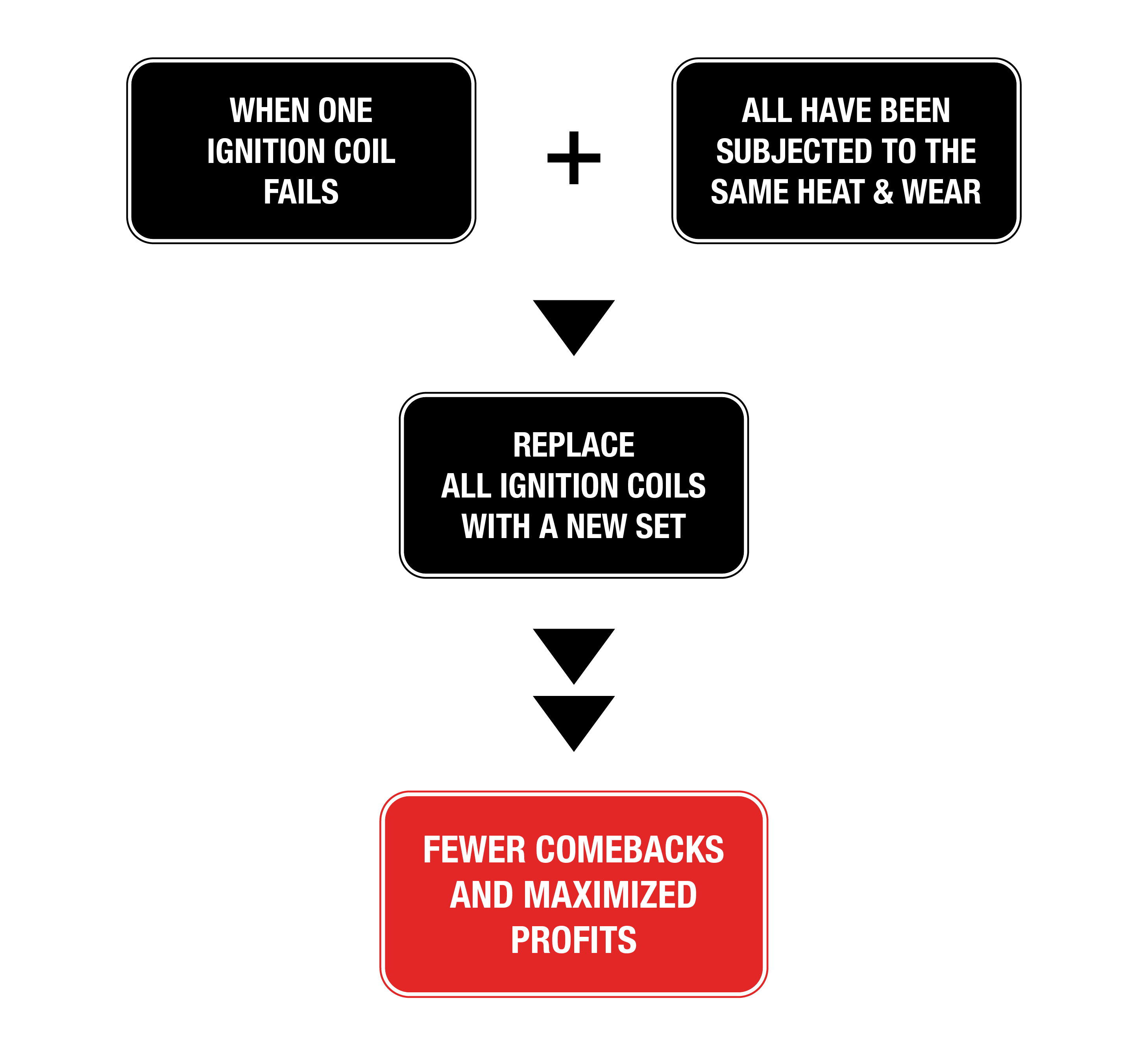 For more than 100 years, when the OE failed, technicians trusted NAPA® Echlin® to deliver a part that's equal
to or better than the original it's replacing.