Tire Pressure Monitoring System (TPMS) Sensors
A Tire Pressure Monitoring System (TPMS) is a safety device that measures, identifies and warns the driver when one or more tires is significantly under-inflated. Each sensor transmits temperature, air pressure, battery state and sensor location to the vehicle's computer. The TPMS sensor is typically located as a valve-mounted stem in the tire. There are also band-mounted sensors that attach to the wheels themselves.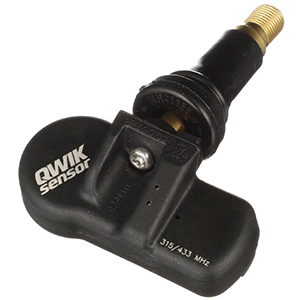 Any collision that impacts the wheels will likely damage the TPMS sensors. Road hazards, over-tightening and the use of an improper valve core can also cause failure. Sensor battery discharge and electronic failure can also lead to malfunctioning.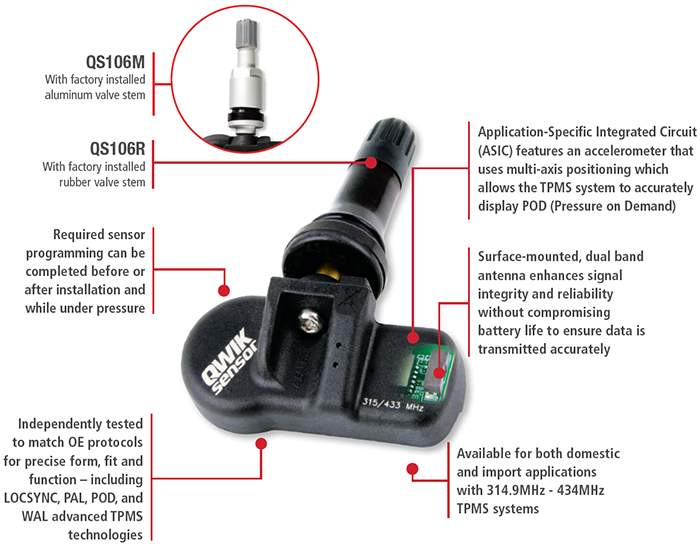 NAPA® Echlin's sensors, like the 92-4006M, are designed to operate within a tighter radio frequency (RF). That eliminates most external interference for more accurate tire monitoring. The QWIK-SENSOR® Multi-Frequency TPMS sensor is available in rubber or metal stem. All of NAPA® Echlin's TPMS sensors come fully assembled from the factory, ready to install when activated, with no valve changes required. Combined with the NAPA® Echlin's OE-Matching TPMS, these sensors provide 99% coverage. NAPA® Echlin® also offers a full line of service kits and TPMS tools.