Ride Height Sensors
A Ride Height Sensor electronically tracks the distance between the vehicle's underside and the road. That information is used by the Engine Control Unit to help the suspension system keep the vehicle level and riding smoothly. 
Mounted on an axel, a Ride Height Sensor is a highly sensitive suspension system component with fragile linkages that can be easily damaged in a collision. It can also suffer damage from the weather or road conditions.
NAPA® Echlin® Ride Height Sensors come complete with sensor, linkage and mounting bracket for a complete assembly and easy install. This direct-fit, drop-in replacement is quality designed to restore the suspension's self-leveling system for improved ride comfort.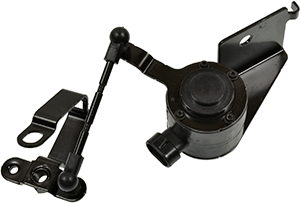 Collision Repair Playlist