Promotions
We put great emphasis on supporting our brands and key categories through promotions that excite and reward customers loyalty to our brands. Explore our promotions below to learn how our commitment to being the best extends to our marketing promotions.
TECH EXPERT KIT2 Hi-Temp Blower Motor Resistor Connector Promotion
To celebrate the release of our exciting new product category, Hi-Temp Blower Motor Resistor Connectors, we're launching our KIT2 Hi-Temp Blower Motor Resistor Connector Kit Promotion. When you purchase our KIT2 assortment of 10 Hi-Temp Blower Motor Resistor Connectors (2 each), you pay for 5 and get 5 FREE. 
Available while supplies last. Click for details. 
Our new Blower Motor Resistor Connectors feature TXL copper wiring and hi-temp connector material to reduce melting that occurs to the factory connector. It's just another example of a problem-solving part from TechExpert.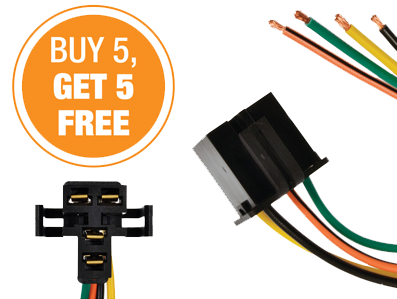 TECH EXPERT High-Temperature Headlight Harness Assortment (KIT1)
With our new KIT1 assortment, you'll receive 16 of our most popular TechExpert® High-Temp Headlight Wiring Harnesses, a butane torch, and butt connectors—all in a durable technician tackle box so you can conveniently store all of the harnesses in one place and access them as needed. The assortment includes pairs of all eight of our High-Temperature Headlight Wiring Harnesses, which feature high-temp connectors to prevent melting and part failure, 14 gauge wire for better conductivity, and "plug and play" fit for easier installation. Together, the assortment and tackle box exemplify our commitment to solving problems that technicians face in the bay.
Click for details. Assortment is available while supplies last.